We will be hosting our very first Yoga Teacher Training Program for energetic, enthusiastic and compassionate individuals.

The Yoga Teacher Training Program will teach you everything you need to know in order to properly and effectively teach yoga to kids.

The 10-week, 20-hour Yoga Teacher Training Program will be held at Studio Maestro on 68th Street (between Columbus Avenue and Central Park West) every Tuesday night from 6pm-8pm from January 31st - April 3rd.

So, if you've ever considered getting certified to teach children's yoga, or if you simply wish to learn more about our upcoming Yoga Teacher Training Program, please email us at lilyogisnyc@gmail.com with "Yoga Training" in the subject line.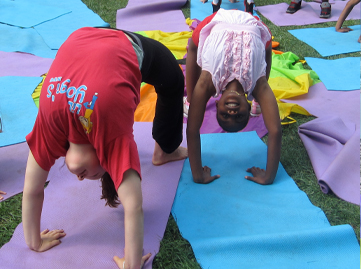 At Lil Yogi's NYC, we believe that yoga is a powerful discipline that should be shared. With this in mind, we are proud to introduce the launch of our new Lil Yogi's Training Program.
Designed to empower everyday people with the skills and confidence necessary to effectively teach yoga to others, the Lil Yogi's Training Program is unique in its focus on the introduction of yoga to children.
With an emphasis on exercise and socialization, our Lil Yogi's Training Program gives you all of the skills, knowledge and experience to be a great instructor. Specifically, our Lil Yogi's Training Program will immerse you in the fundamentals and methodology of teaching yoga while also providing you with an in-depth examination of proper childhood nutrition, health and fitness and the ways in which they relate to and complement the poses, postures and alignment.
Throughout the Lil Yogi's Training Program, we will spend time exploring the underlying philosophy of yoga and the ethical issues that often intersect with the business side of being a yoga instructor.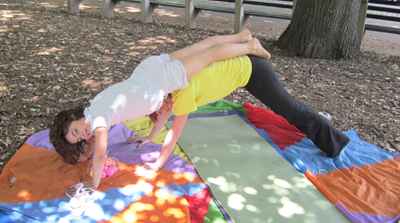 Our Lil Yogi's Training Program curriculum was created by our team of certified yoga practitioners in order to ensure that people with a love of yoga will obtain the skills needed to effectively pass on this special practice to our younger generations.
By limiting the Lil Yogi's Training Program to 15 participants, we're able to provide each participant with an unsurpassed level of individualized, hands-on attention. And as a result, we're able to hold each individual to the same high standards to which we hold ourselves. Moreover, this means that in addition to receiving your certification, you will benefit directly from our team's years of experience and expertise.
While we suggest that participants possess at least a basic knowledge of yoga before beginning our program, our curriculum was specifically designed to benefit individuals of all levels of proficiency. This makes us a great option for current and aspiring teachers as well as those simply interested in supplementing their understanding of the tradition.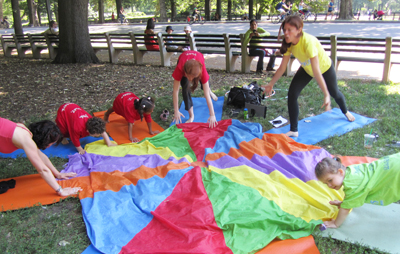 That being said, the underlying purpose of our Lil Yogi's Training Program is to provide a safe, nurturing atmosphere in which to sharpen your yoga skills.
With the successful completion of all of the Lil Yogi's Training Program requirements - contact hours and exam - you will receive your Certificate of Completion evidencing your training.
We're so confident that our Lil Yogi's Training Program will equip you with the skills to begin teaching others that we are committed to offering certain participants full or part-time positions at Lil Yogi's NYC upon successfully completing the program.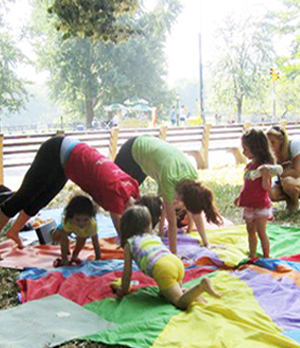 Benefits of the Lil Yogi's Training Program:

* Learn the fundamentals of teaching yoga to children
* Explore the ways that yoga helps children become healthier, stronger and more relaxed
* Discover the difference between yoga for kids and traditional yoga for adults
* Become immersed in many different traditional aspects of yoga such as chanting, pranayama (breathing), vinyasa (flow) sequences and savasana (relaxation period)
* Learn how to incorporate interactive games, creative movements, songs and props to create a lively environment that helps each child connect with the experience
* See how combining flexibility, strength, balance and fun, yields substantive mental, spiritual and physical benefits for children
* Master safe, injury-preventative teaching techniques
* Significant opportunity for practicing teaching skills in front of live students
* Learn to apply the skills learned with the help of experienced, professional mentors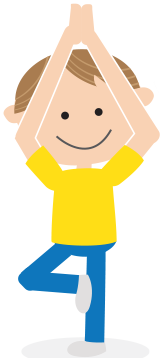 Welcome
Lil Yogi's NYC is a children's yoga and fitness company designed to help children develop better physical awareness...

School Programs
Lil Yogi's NYC offers yoga in the classroom for grades pre-K -12 in schools throughout New York City.

Lil Yogi's NYC on Twitter

4 hours ago via Twitter
A yoga class a day keeps the doctor away.

Contact Us

General Info
2150 Broadway, Suite 7D
New York, NY 10023
Tel: 646.574.0370
lilyogisnyc@gmail.com